A-well-a everybody's heard about The Word - Posted on October 27th, 2008
Papa-ooma-mow-mow, papa-ooma-mow-mow
Papa-ooma-mow-mow, papa-ooma-mow-mow
Ooma-mow-mow, papa-ooma-mow-mow!
In November, in The Word Magazine. Should be easy to find in Brussels (no bird involved).
Night isn't grey. - Posted on October 9th, 2008
I know some collaborators so brave, they told me they wouldn't be affraid of spending the whole night out in a public park. I thought they deserved that experience right away!
Communication blip/ Oct.08 - Posted on September 30th, 2008
I love spam. Please, more!
L'autre. - Posted on September 30th, 2008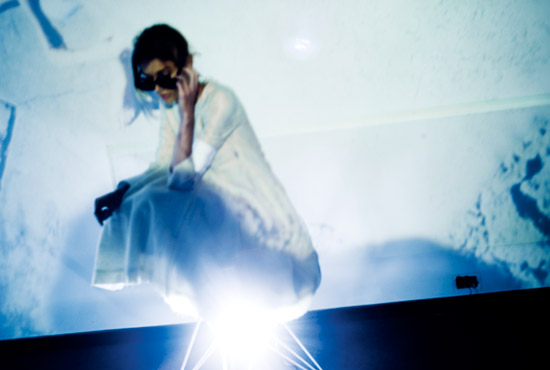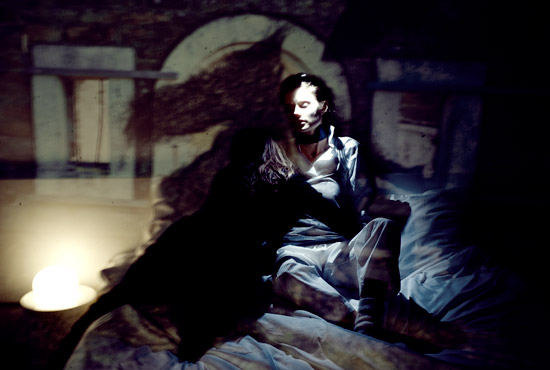 Shot in the White Hotel in Brussels. Neat place, but I prefer to bring my own personal through the windows sights.
So much time, no news. - Posted on September 30th, 2008
Updates - Posted on July 12th, 2008
- If you are passing by... have a look (Albertine square, Brussels)
Some windows - Posted on June 29th, 2008
During summer, every day, from July 15th, I'll be posting one new image in the "somewhere" collection. Maybe it'll help cooling your computer. See you in a moment!
Meanwhile, a belgian galery in Brussels, PGA, contribute to the Summer of Photography festival by exhibing huge prints mounted on several cubes, downtown, 'til August. One of them is showing pictures from here.
Newsletter Summer 08 - Posted on June 28th, 2008
Always a pleasure to serve!
Peep Show - Posted on May 6th, 2008
On that photoshooting technicaly based upon use of very long lenses, I really enjoyed playing with those walkies talkies, even when the model was standing as close as 3 meters away. I think I need a megaphone. And a folding chair near the camera. That would be the photography as I signed up for.
As first, this serie was meant as a tribute to Antonioni's Blow Up, but in its way through the lens, it transformed itself intoMichael Powell's Peeping Tom. I don't mind. Eventually I name those pictures Peep Show.
Traffic Out! - Posted on April 15th, 2008
Well it was about time.
Thanks again to my friend Kristo Buel for his paintings.
Cheers! - Posted on March 28th, 2008
On a rainy afternoon, I decided to pay a visit to the quiet world of Still Life, where I happened to meet a bunch of Still Friends.
Flowers - Posted on March 26th, 2008
Pylône Magazine. - Posted on March 25th, 2008
At last there will be things to read around my pictures!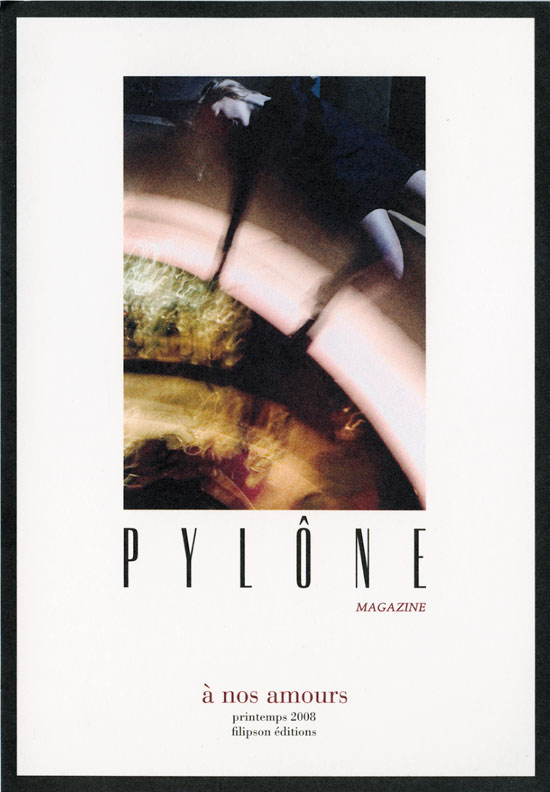 April 10th @ l'Archiduc, in Brussels. Any dead drunk person knows where it stands.
bis repetto - Posted on March 11th, 2008
I had the chance to compete for an old dance shoes brand's campaign, few weeks ago. Benjamin Adida, the art director for that project came with the idea to create a dance studio with pink ribbons, which is the brand logo of Repetto. We were all very excited about the concept and Christian Marguerie, my agent in Paris decided to produce one image selected from the lay out board. Then Jeremy Marchant, best retouching guy in town, worked on it.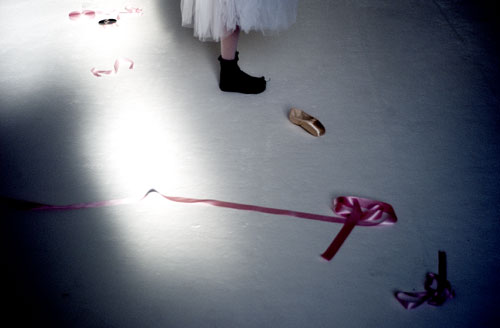 We really wanted to please our potential client, so we even hired a real dancer, who is a former David Hamilton's model (tough to get rid of the blurring pink touch in those circumstances).
Despite everything, we didn't win the campaign.
Snow over spring. - Posted on March 9th, 2008
I've just finished a fashion shooting for a magazine, showing spring/summer collections, outdoor, snow falling on the model. My job is non sens.
Some good prose - Posted on February 13th, 2008
I certainly regret not to understand portuguese: read this! I'm quite envious of the website name. I totally love it.
[edit] Here is an extract from that interview on O elogio da sombra:
Not Going Anywhere - Posted on February 13th, 2008
Just in time ! - Posted on January 23rd, 2008